Most people love vegetarian food, there are dozens of delicious Indian vegetarian snacks for them. If you like to cook that delicious Indian vegetarian snacks in your kitchen, then you must try the following snacks. You can get the detailed recipe of the snaks at MyDelicious Recipes.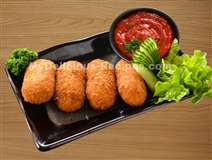 Paneer Cutlet
Paneer Cutlets are very easy to cook this is an amazing combination of healthy and delicious snacks that is easy to cook. No one can refuse the paneer cutlets because of its deliciousness. Everyone either children, adults or old people always demands more and more. Paneer cutlets are healthy as its stuffing contains paneer which is rich in calcium and protein, and the snack is very delicious, all because of the spices used to make it. The peoples who likes paneer, paneer cutlets is a favorite dish for them. Get the detailed recipe of paneer cutlet at MyDelicious Recipes.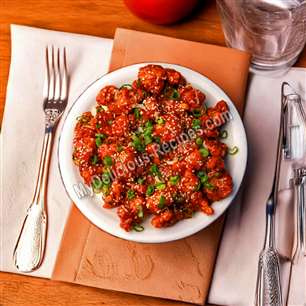 Gobhi 65
Gobi 65 or Gobhi 65 is so delicious, crispy, spicy and tempting fried snacks, made of cauliflower. Dishes 65 such as paneer 65, aloo 65 or gobhi 65 are very famous snacks from South India cuisine. Gobhi 65, paneer 65 and aloo 65 are delicious and pure vegetarian snacks. Gobhi 65 the delicious snacks that can be served in the party or as an evening snack. To make the delicious and aromatic snacks Gobi 65, first all the florets of cauliflower are well coated with corn flour and spices then deep fry it until it becomes crispy and added to almost dry curry of yogurt with spices, green chilli and curry leaves. Get the detailed recipe of Gobhi 65 at MyDelicious Recipes.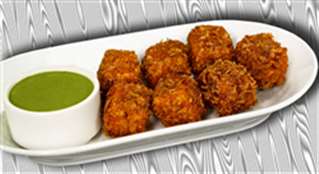 Kurkure Paneer
Kurkure Paneer - A delicious paneer sncak that is crunchy from outside and soft from inside. this is an ideal and perfect snacks and starter for the parties. The crunchy and delicious snacks is made from soft and healthy paneer coated with corn flour, corn flakes and spices. this deicious and crunchy snacks kurkure paneer is so easy to make. Not only it is easy to make but the snacks is incredibly delicious, also very few and easily available ingredients are required to make this delicious snack. The tasty and crunchy snacks kurkure paneer are very soft and juicy from the inside and very crunchy and crispy from outside, which makes the snack mouth-watering. Get the detailed recipe of kurkure paneer at MyDelicious Recipes.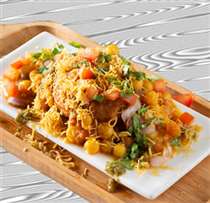 Ragda Pattice

Ragda pattice - A delicious Indian street food. This is very much famous in Maharashtra and Gujarat. Ragda pattice is very much similar dish to another North Indian much popular dish "Tikki Chole". This dish is so tasty that everyone loves the taste and this is very popular street food, as Tikki Chole in North India and in the form of Ragda Pattis in Maharashtra and Gujarat. The dish has two main parts, one is pattice which is actually aloo tikki and the other main part is ragda or chole that is white peas with thick gravy. To make Pattice mashed potatoes are fried only with salt, while to make tikkis in North India mashed potatoes are fried with salt and spices. pattice or tikki are served in a plate with ragda or chole with tamarind and green chutney, finally garnished with finely chopped onions, tomatoes, coriander leaves and sev. Get the detailed recipe of Ragda Pattice at MyDelicious Recipes.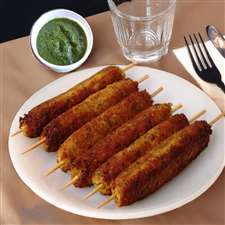 Soya Seekh Kabab

The Seek Kababs are generally known for as a non-veg dish made of minced mutton or chicken and cooked in a tandoor. The vegetarian version of seekh kebab is also not only delicious dish but also an healthy dish. Many varieties of vegetarian kebabs are there that you can made. One of the many varieties of vegetarian kebabs is Soya Chunk Kebab which is not only delicious, but also healthy in the form of soy which is a rich source of protein. To make the soya kebab, first we have to prepared mixture using minced soya chunks, roasted gram flour, onions and spices, then shaped into a seekh kebab on skewer, then either fry on a tawa or in the oven. Get the detailed recipe of Soya Seekh Kabab at MyDelicious Recipes.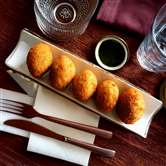 Dahi Kabab / Dahi Ke Shole

Dahi kebabs or Dahi Ke Shole - A popular soft and yummy snacks that everyone loves to eat at any special occasions such as birthday party, kitty party, or any other small parties at your home. The delicious dahi kabab which is also famous as dahi ke sholay is so much tasty and mouth watering that each of your guest will surely love it and demands more. Dahi kababs are very delicious and Famous vegetarian kababs in India especially in Northern India. These delicious kebabs are very easy to make with hung curd, breadcrumbs, gram flour with some basic spices. You can easily find dahi kebabs in the menu of restaurants in North India. This kebab is crispy on the outside while inside is soft and mouth-melting texture. Tasty dahi kebab is served as an evening snack or as an appetizer with green chutney. Get the detailed recipe of Dahi Kabab at MyDelicious Recipes.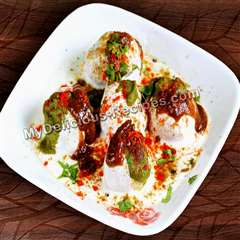 Dahi Bhalle / Dahi Vada

Dahi Bhalle or Dahi Vada - is a soft and delicious street food which is very popular in India especially in North India. The dish does not require any introduction, no one will refuse to eat it due to its soft texture and delicious taste. To make the delicious, soft and spongy Vada or Bhalle, a thick batter is required to made from urad dal and deep fried in the shape of small balls, before serve these soft bhalle are soaked in lukewarm water for some time, while serve add curd, sweet tamarind chutney and spicy green chutney over these soaked bhalle, finely spiced with some spices. Finally garnished with red chili powder, roasted cumin powder, and coriander leaves giving it a spicy taste and an attractive look. Get the detailed recipe of Dahi Bhalle at MyDelicious Recipes.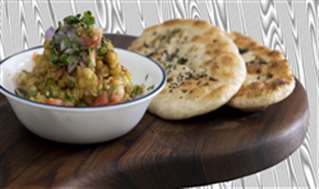 Matar Kulcha

Matar Kulcha or chole Kulche - Most popular street food of North India, especially in Amritsar and Delhi. Chole and Kulche is an ideal staple food, this staple food contains boiled white peas which is served with flat bread (kulcha) which is made by baking the fermented refined flour. Whenever you are in North India, you should eat this excellent staple street food matar kulcha. Dried green peas or white peas look like chickpeas but white peas have smaller sizes than chickpeas. It looks like chickpeas so the staple food is also known as chole kulche. Get the detailed recipe of Matar Kulcha at MyDelicious Recipes.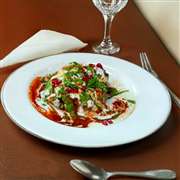 Aloo Tikki

Aloo Tikki - A delicious and popular street food from India with crunchy and crispy texture, consisting of boiled potatoes with some Indian spices. A good amount of aromatic spices make aloo tikki crunchy, crispy and delicious. Aloo tikki is served with curd, pudina chutney and tamarind chutney or you can also enjoy delicious tikki with spicy chole. Tikkis can also be made with or without stuffing. North Indians love stuffed tikkis. The stuffing used to make delicious tikkis is made from chana dal, while some even using green peas for stuffing. Delicious tikkis can also be made without stuffing. Get the detailed recipe of Aloo Tikki at MyDelicious Recipes.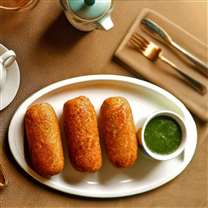 Bread Roll

Bread Roll - A soft tasty and popular Indian snack. Bread rolls are very easy to make at home with readily available ingredients like bread and potatoes. Potatoes can be boiled in advance and then you need about 25 minutes to prepare tasty snacks. To make the delicious bread rolls, make the stuffing first by boil the potatoes and mashed them, then mix spices in that mashed boiled potatoes and then take a bread slice, make it wet, fill with potato stuffing and make a roll. Deep fry the stuffed rolls until it turns crispy and golden brown. Get the detailed recipe of Bread Rolls at MyDelicious Recipes.